Tips Tuesday is something that is a feature of a new blog project I joined. Flaming Hot.  I'm already doing it wrong my first time but since I came up with my tip and had a picture to go along with it, I'm posting it anyway and will do my Tips Tuesday properly next time and email my picture ahead.  (Sorry Susan!)
What could be more obvious than keeping your booth simple?  Easy to set up and tear down, right?
I'm talking about the design and how it interacts with your work, or better yet, doesn't interact.  I haven't been doing shows all that long but I've found that the simpler I keep it, the more emphasis on and recognition of my work there is.   Here's my booth from the most recent fall Tucson Best Bead Show: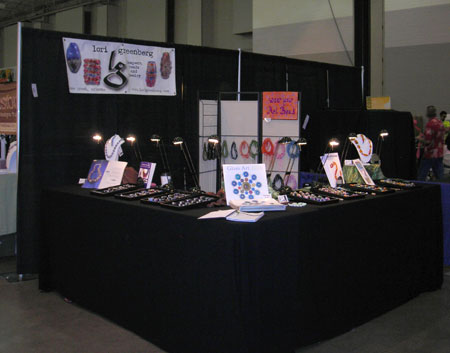 It ain't spectacularly decorated or fancy but it's crisp, clean, and gets the job done.  (don't mind that thing in the background…it was a place to hang some neck cords and definitely will be re-thought next show!)
I've done shows in my own studio where I've been warned ahead of time to take down any pieces of art other than my own.  I didn't follow that advice because I love all of my collected beads, trinkets and creatures.  Sure enough…I spent too much time explaining that those cool little tikis were bought on eBay, they weren't for sale and I didn't make them.  Grrrr.  Buy a dang bead, husband-of-the-woman-that-dragged-you-here!
Lesson learned.  Keep it simple.  Let YOUR work do the talking.
(Oh, and when it's this simple, make sure you bring your lint brush…that shows up more too).