So, here goes. I did my 'research'…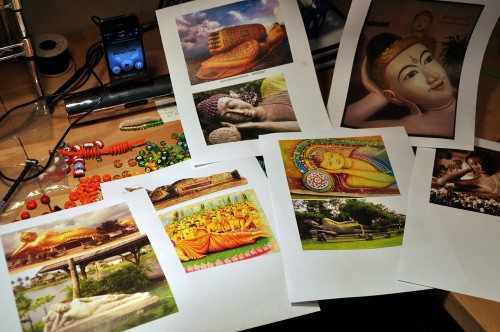 Pulled up some Eckhart Tolle on the audible.com app and went to town sketching out some elements that worked for me.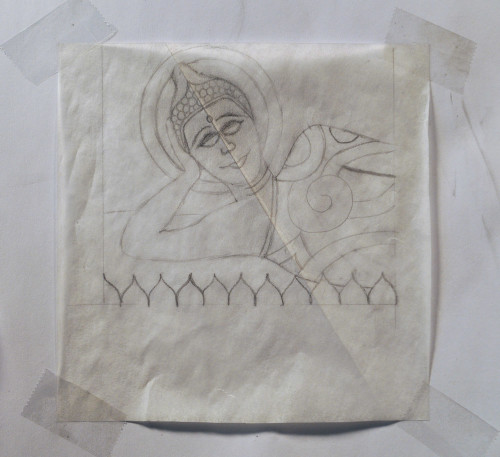 Have I mentioned that I hate that I can't sketch? I know I'll get to an end result that I like but I really like how cool good sketches look too. ::sigh::
There will be other elements in there that make it pop, like some flower murrini and the scroll work being done in longer solid pieces instead of the dotted murrini. I still have to decide what to do with the background and work out colors.
Here's a neater version: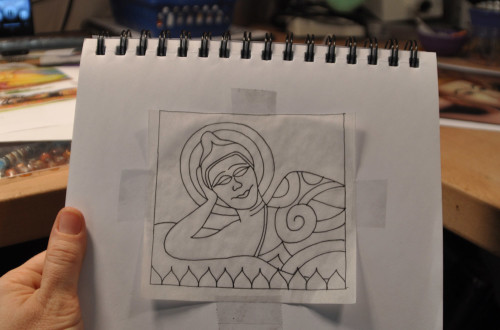 Tracing and drawing this again probably isn't necessary. I could have scanned the sketch if I wanted to or just transferred the image to the glass right from the sketch but I like to think of this step as 'getting to know my subject.' Becoming intimate with it. I also love working with tracing paper. This step also allows me time to think about other elements of the piece yet to come while I reproduce a more simple line drawing. Things like color, shape of the murrini (should the ground be green and each tesserae shaped like a blade of grass? How am I going to get those swirls made out of one continuous piece of glass? Should I make him golden or flesh tone?
I enjoy each step I take in the process, which is surprising to me. Also though, as I work on each step I look forward to the next. It is like working out a puzzle…searching for the exact piece, finding it and then the satisfaction that comes fitting it into place…all leading up to a pretty cool finished product and sense of accomplishment.
Time to go get the tile ready and decide on colors.