I finished my first micro mosaic piece, the submission for ISGB's Indelible show and will show it to you once the jurying is done. Since then I have started another project for Cathy Lybarger's Meat Themed Show at her shop in Madison, WI. Finally, a place to send some of my more quirky ideas. I have a few of them brewing and here is the start to one of them: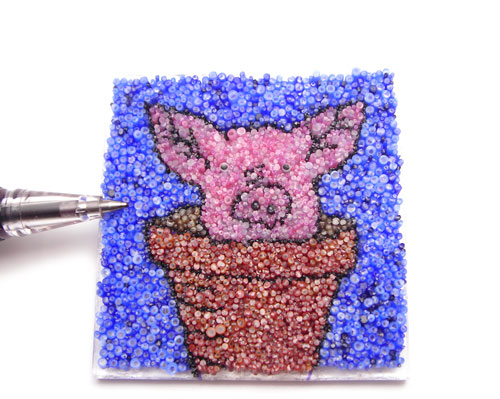 This is only a 2×2″ tile in one of the fist stages. Fine tip pen for size reference. Each little tiny stringer murrini is a little bigger than the tip of that pen. How many do you suppose are on there? Someday I might task someone with counting, or at least estimating.
Now that the murrini are placed, it's time to go through a fusing cycle to adhere them. Traditional micro-mosaic would be about finished by now, using window putty or some other form of adhesive. Not me.  I have to add at least a few more steps. I'm going for REALLY permanent.  I like them all packed in there together and no grout lines.
Sorry I don't have time to work on getting the glare off of of it so you can see the true detail.  It will be easier to see once it is ground flat and polished up:
I really like the look of it like this but, since it's not fused to the base, it is not acceptable to stop here. Eight hours in (pulling the color and placement of design) and I still need to fuse, grind, polish and set. For some reason, this doesn't bother me. In the past, a bead that took ONE hour was way too long. We shall see how that goes in the market place.