Last year (I think) when I was at the Michigan Cabin Retreat my friend Paula had the coolest clogs on. Yes, they were clogs and yes, they were cool. At least I thought so.  But Paula always has the coolest artwear.  So cool that I even took a picture: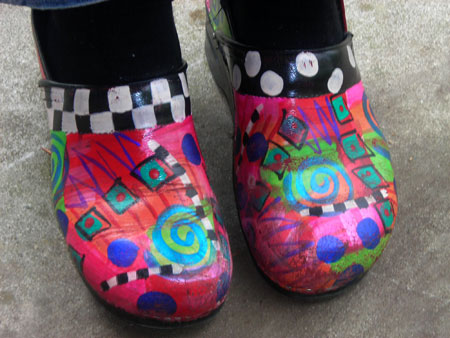 I wanted some.  And they also looked like they'd be fun to try on my own.  But, being the scaredy cat that I am, I never set out to do something without looking for the right way to do it first.  I'm working on that.  I have this fear of messing up when doing something new.
With such a lack of spare time, I never got around to doing that although I've come across online articles and have seen tv shows that show me how to paint furniture (even upholstered chairs!) and other such items.  So, today when one of my google alerts pointed me to a shoe painting tutorial I had to show you.  And had to put it here so that I know where it is when I want it.
Courtesy of Beru Betto:  Sneaker Customization Part 1 and Part 2: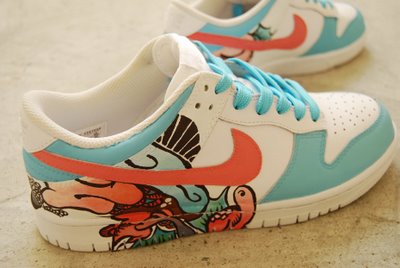 And another site that Beru points you to:  Sneaker Freaker.  Thanks Beru and Freaker!