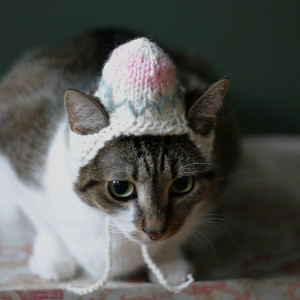 Another cutie-pie project book that I was fortunate enough to receive for review from Running Press, Cats in Hats, 30 knit and crochet patterns for your kitty. Don't tell anyone but my 13 year old loves kittens and this book had him squee-ing as we turned the pages. The poor kid is very allergic so he has to settle for Youtube videos for his doses of cuteness. Cats in Hats gave us a little time together to see all the cute kitties and their equally as adorable head gear.
The hat projects are just as adorable as the cats and I can't wait to try my hand at crocheting them. We have plenty of friends we can give them to, if the kids don't keep them for their stuffed animals. I might want to try and adapt a design or two for a kid-sized hat.
The book is beautiful and the directions are easy to follow with print that is easy to read. Thirty fun patterns from Santa to one with a heart that hovers overhead like an antenna. Our favorite is the shark fin. Perfect for if we did have a cat so it could watch our Beta fish in the tank.
See what other bloggers on the tour are saying and be sure to enter the contest:
3/16 Scooter Knits
3/17 Yarning 4 A Smile
3/18 Wendy Knits
3/19 In Stitches
3/20 Polka Dot Cottage
3/21 FaveCrafts
3/22 Recycled Crafts
3/23 Lorelei's Blog
3/24 CraftSanity
3/25 Lori Greenberg
3/27 Gaea Handmade
3/28 Pretty Things Blog