I've begun writing about my recent color studies over at Watch Me Create.  Here is another segment of what I've been doing while creating inventory for Bead & Button show.  (come see me in booth 1248…I believe I'm between JCHerrell/Cathy Lybarger and Wayne Robbins).
I've stocked up on focal beads and since I have an eight foot table at this show (two more feet than I'm used to) I thought I would work up some bracelet sized set beads.  I also don't know what this buying crowd is like so I want to have something for everyone. But, on to the color studies…  I am continuing on with my stacked, layered dots.  I started out with the idea of sets before I jumped on the color studies wagon and this is what I came up with: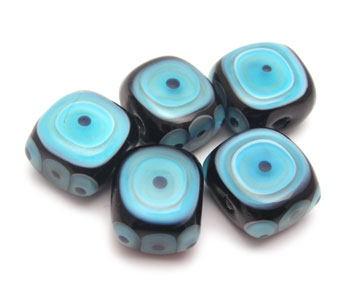 Simple, one color stacked dots.  Aqua and below, purple:
I was feeling the need for a little more structure, afterall, that's how production work gets done fast…you're not always thinking of what to design, what colors to use, what shapes are good, etc.  You just pick a design and make a bunch.  So that's when I decided to do progressions of color and while I was at it, document it as I go.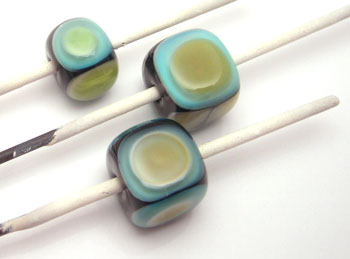 I have an obsession lately with turquoise and green.  But not just any turquoise and green.  In my usual fashion I wanted it to be different than any other turquoise and green that anyone else was doing.  Pretty tall order since relatively, the glass palette is limited.  So, I set out on my studies layering colors.  As you can see above, this was not a successful trip although I can say it's not like other colors you're seeing, I don't think.  A few more trials though and this is what I decided to focus on:
It still wasn't perfect but it was ok.  While I liked the olive color that I achieved, it wasn't what I was going for in this set.  I tweaked the layers of glass and settled on this: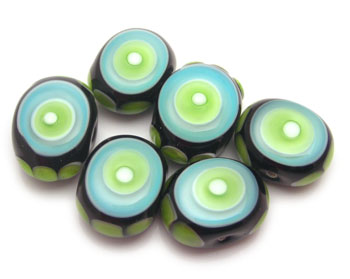 Muuuuch better, yes?  I also made them in reverse with green being the first layer and turquoise being the second.  Next, I decided I'd like to do purple and green.  So off again I went to do the testing before I committed to a whole set: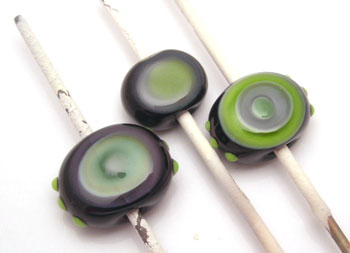 Here you can see that sometimes you win, sometimes you don't.  The good news is that after you get the hang of how certain colors work together your testing time is cut down a lot.  After these tests (and a few more not shown) this is what I came up with: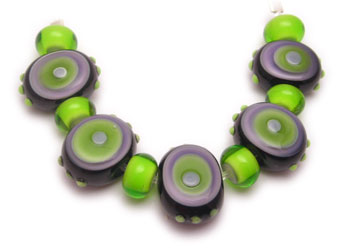 And again, I did the reverse: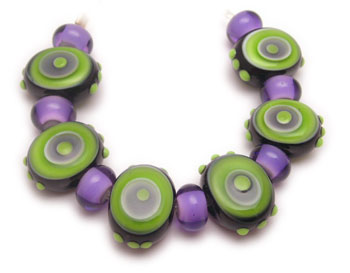 So, this is getting a bit long and I do need to get out to the torch as this is my last week of preparation for the show.  Be sure to subscribe to the blog in a reader or sign up to get it by email because I'm going to show you how these studies progressed to even more colors as well as a little insight as to why these spacers are not your regular spacers.