I'm blogging at my studio show from my iPad and hit the publish button a bit too soon on the last post, thinking it would give me a chance to preview. But it didn't. So, anyway…
Why am I so leery of putting Dali into the kiln? With any piece that I really really like, especially the larger ones that have more time into them I have that feeling because you never know if a section will fall over or shrink up and fuse wrong. This particular piece, however, presents a new anxiety laden section. The stand alone mustache.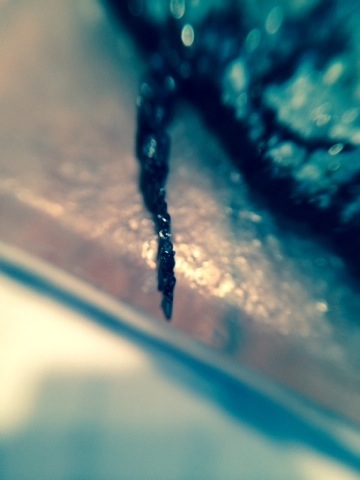 I don't know if you can see that or not but, it's the one side of the mustache. It gets down to one row of stringer, standing on end, with nothing supporting it.


The plan is to pack it with fiber paper to support it during firing. I'm confident that that will go well (knock a little wood). Another anxiety in me arises after that, even if it is successful. Durability.
I worry about that little line of stringer breaking off. Of course it can break off. It is very thin glass. VERY thin. I am crazy when it comes to durability and longevity of a piece. I have avoided making certain things that I've had a vision for because they seem too delicate; I know I'd have them broken in no time and probably why I don't wear too much jewelry. In this case though I have to remind myself that this is not wearable art and it is meant to be hung or placed somewhere, not handled and not touched.
I think about all of the delicate glass work I've seen. Sculpture, delicate florals, marble runs made from glass rods, etc. Even some of the glass pipes, even though they're boro would most likely not withstand a drop on the tile. Yet, the artists sell them and customers buy them, and they are just fine.
I'm wondering, do you all think this way if you make something other than solid glass beads or other solid glass work? Do you worry about it? What runs through your mind?