Disclaimer: This post may sound like I'm really hard on myself, and I suppose I am. I am trying to be gentle with myself and look for the good in what I create and put out there. I am not fishing for compliments, rather, sharing my process, in AND outside my head. It's what makes me tick. It's what makes me strive to refine my technique. It's who I am and, while it can be painful sometimes (what artist doesn't experience that??) it's how I roll and I'm good with that. If I weren't, I'd quit or find a way to change it.
I am working through my thoughts about the process and outcome of my most recent murrine. LeeLoo from the movie the 5th Element.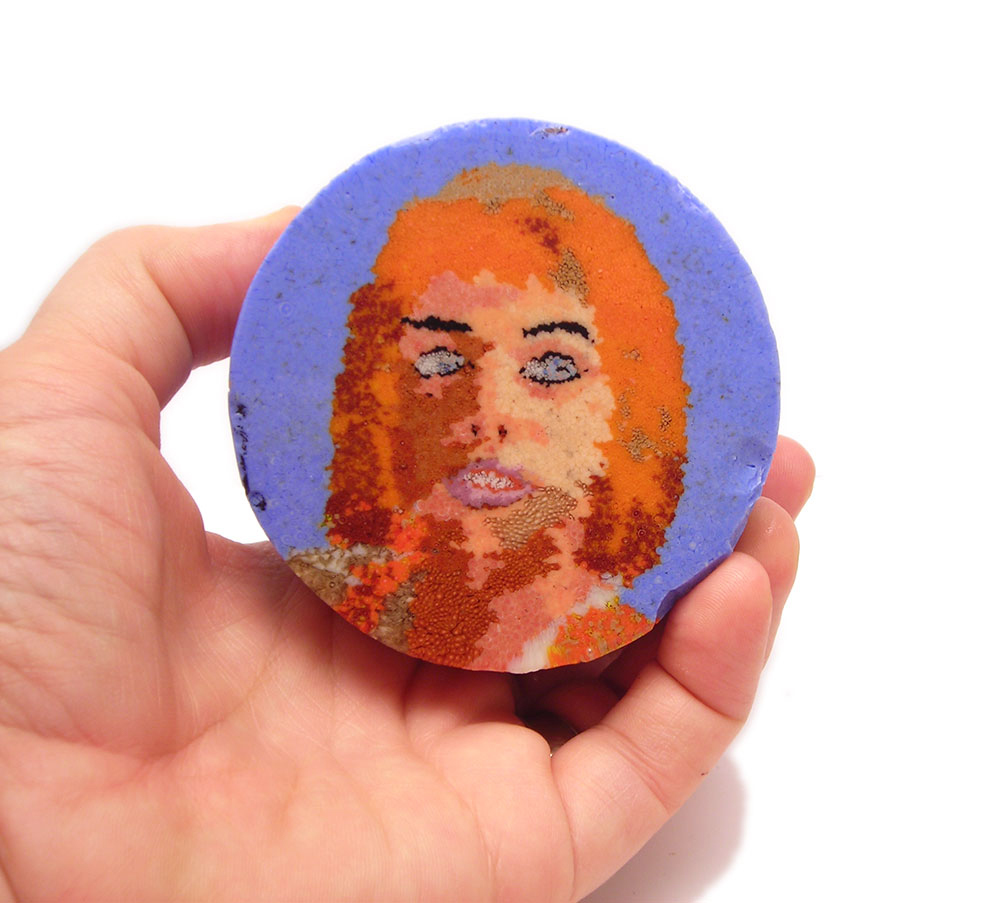 This is my first attempt at a portrait murrine and I'm not sure how I feel about it. It just came out of the kiln this morning. 50 hours of time mixing and pulling color, and placing the design. 17 hours in the kiln. I want to point out all the things that bug me but, who wants to hear that? I feel like I need to get on to the next project so I can redeem my shortcomings in this one. So I can say, "See! I really DO know how to do this!" I am not satisfied with not knowing how to do it. Note to self: I understand now why my 13yo might not want to always jump in and try things…what if he doesn't do it right the first time? He might be left with this same icky feeling in his gut as I get in mine.
Things I learned from this go-round (my fourth color murrine):
1. Working larger is easier. Duh.
2. Adding 'dots' of saturated darker color in with your lighter color does not give the effect of a darker color. It overpowers. Do not do this ever again! If I want a darker color, I need to mix a darker color! No shortcuts.
3. Dark colors dominate. Use sparingly.
4. Using clear glass as a layer in any color makes that color SIGNIFICANTLY darker. The theory was that the clear will let the light color reflect through the clear and look even lighter. It doesn't work that way.
5. Two light colors next to each other really blend. Use some type of darker color on the edge if you want more definition (like between the eye color and the white).
6. A dark and a light color form a line. Be careful.
7. Orange and periwinkle next to each other make my head want to explode. I don't even like periwinkle…why did I use it?
8. Brown has a purpose somewhere but so far it has not been my friend.
9. Make sure your kiln paper goes all the way to the bottom of your tube!! Dammit.
I have to remember that my first eyeball looked like this: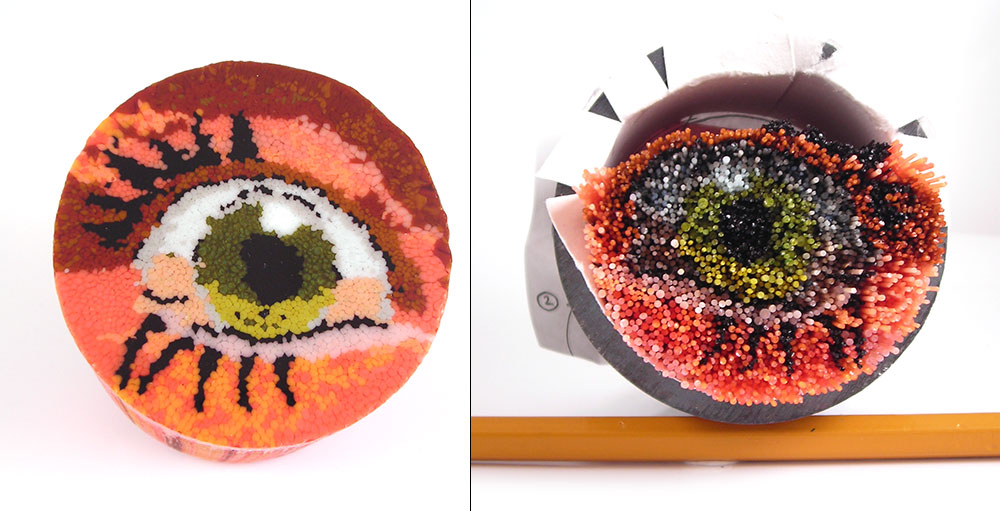 The stringers were fat and the image was highly pixellated because I used solid color mixes. I learned that I didn't like the pixellation and went to wrapping bands of color to mix, and made the stringers thinner. This is the much improved second version:

That was kind of cool. The brown areas that were supposed to be more subtle kind of irked me but I liked this one much better than the last. Then there was the mouth: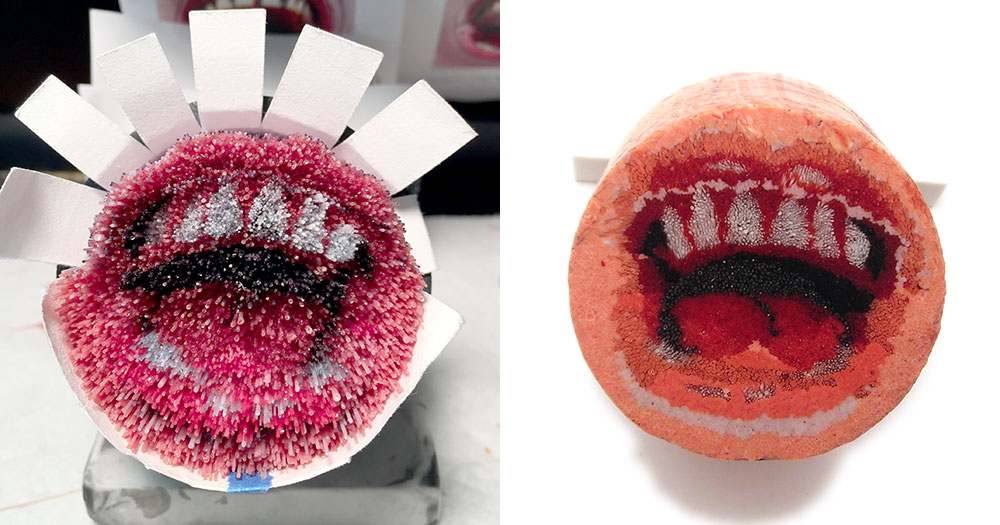 This one taught me that the stringer needed to get even thinner and started to teach me that my theories about using clear glass sometimes work, and sometimes don't.
That's about all I have processed right now. I'm glad I went through this exercise of comparing them all side by side. It's also helpful to see them displayed all together.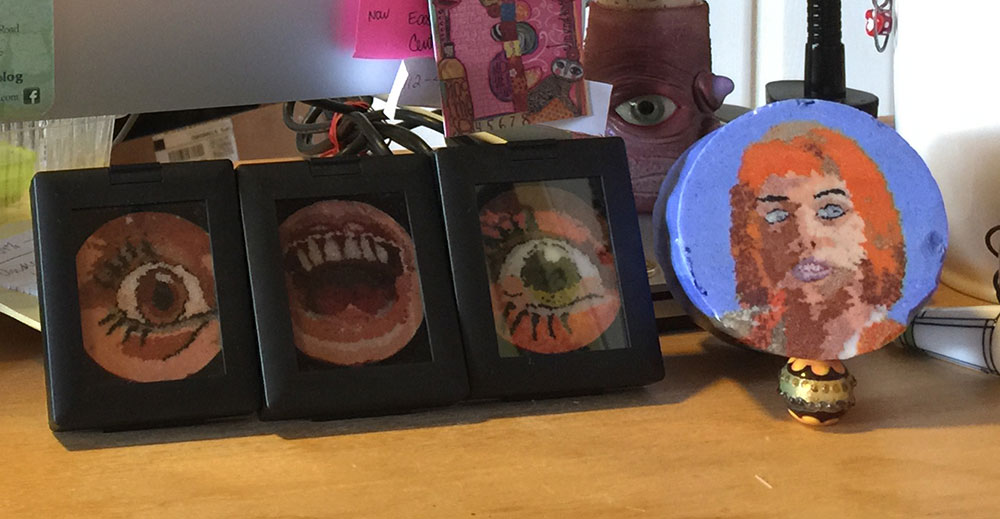 Damn that periwinkle!!!!